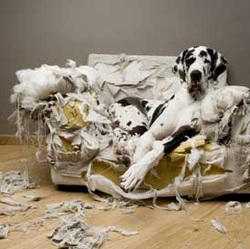 In many dogs lives there comes a time where behaviours are an issue, most of the time owners will put up with these issues putting them down to character or personality. The truth is that when a dog shows unwanted behaviour there are reasons for this and the chances are that they are just as unhappy with the behaviours as you are. Communication with dogs is difficult because they can't tell us what is wrong. However dogs are extremely acute in using body language, understanding what a dog is telling us by what they are doing means we can then use the right approach to rehabilitate the dog, change the behaviours and address the issues for the dog.
There are increasing numbers of canine behavioural cases in which dogs are euthanized because owners and professionals are unable or unwilling to address the issues. Dogs that exhibit extreme behavioural issues can become very dangerous and unless they are rehabilitated correctly the issues can intensify and endanger the dogs and people around them.
Here at Able Canines there is no case that we will not tackle and are qualified in canine psychology. Very few dogs will exhibit behaviours without warning and it is these warnings that can be addressed to correct unwanted behaviours. In severe cases it can be dangerous to challenge these behaviours without professional help and that is what we are here for.
Behavioural work can included:
Aggression towards people or other dogs,
Possessiveness,
Dominant behaviours,
Chewing,
Biting,
Nervous behaviours,
Neurotic behaviours,
Fear biting,
Hyperactivity,
And any other behaviours that your dog may present.
---
Able Canines
Pet Dog Services
Offering a Personal Approach for your Dogs Needs
023 8027 5881